Our Guarantees
Orange Realty Group is meeting and exceeding the growing demand for a professional, trustworthy and cost effective property management solution that owners can depend upon in the Las Vegas market.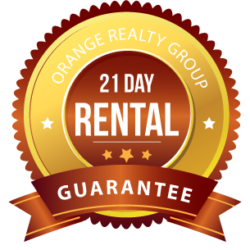 21 Day Rental Guarantee
We guarantee that we can find a quality tenant for your home in 21 days, or the first two months of management fees are FREE!
Our conditions for the 21 Day Rental Guarantee:
Orange Realty Group must have final say on the rental price
The home must be vacant
The home must be otherwise ready for tenants
The last thing you want to do is have your home sit on the market for 30, 60, or even 100 days. We guarantee that we will find the right tenant for your home within 21 days, or your management fees are waived for the first 2 months. You need to allow us to set the rental price, however, you can plan on having tenants in your home within 21 days or the management fees are waived! Try running that by the competition!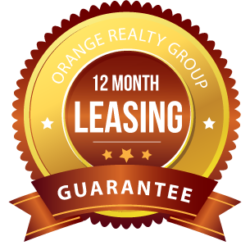 Leasing Guarantee
We are most confident we can place quality and reliable tenants through our comprehensive background and screening checks. Because of this we offer that if any tenant placed and managed by Orange Realty Group is evicted, or leaves a lease agreement within 12 months after placement, we will find a replacement tenant for FREE! When it comes to tenant screening and placement, we do our homework upfront so you can have peace-of-mind knowing your property is in the most responsible and capable of hands. Now, the only exception would be a federal military relocation, which are out of anyone's control, but outside of that we guarantee your tenant will stay 12 months, or we will find a replacement for equal or better rent at no additional charge. We guarantee you will NEVER have to pay 2 leasing fees in the same 12 month period. This is the BEST tenant guarantee offered in the industry!!
We guarantee the Tenant will stay for 12 months, or we will find a replacement FOR FREE
We stand behind our Tenants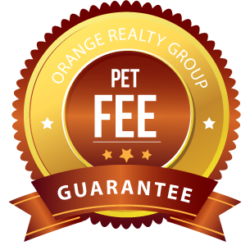 Pet Fee Guarantee
For no extra charge to owners, we guarantee your home will not be damaged by any approved animal. When we allow a pet into a home, we have vetted that animal almost as much as the tenant. At Orange Realty Group, we like to deal with hot button issues before they become problems. So, we screen each pet, charge a reasonable fee, and guarantee that you (the home-owner) will not pay out of pocket for pet damage.
We pay for any damages exceeding the security deposit caused by an approved animal
We screen each animal
We provide two annual pet inspections
Covered Up to $2500